The CSU Accessible Technology Initiative (ATI) has procured and implemented Enterprise level tools that assist in the automated and manual evaluation of websites and web apps. In addition, the ATI office has negotiated with professional service vendors to provide tools and related services to support digital accessibility efforts at each of the 23 campuses.

What is Ally?
Ally is a tool that benefits all students by improving the accessibility and usability of course materials. Ally seamlessly integrates into Canvas and automatically checks the accessibility of course content, provides feedback and step-by-step instructions for how to remediate specific accessibility barriers, and gives students access to alternative formats of course content.
CSU Resources
The CSU is supporting the campus implementations of AllyThis link will take you to an external website in a new tab. - by coordinating and subsidizing a systemwide Ally license for all interested campuses. Ally integrates into the learning management system, reviews each course's files, provides several additional formatted accessible options of each file, and makes recommendations on improving the accessibility of all the digital course content.
The CSU Chancellor's Office coordinates monthly Ally Common Interest Group meetings via Zoom and an Ally listserv where campuses ask questions and share best practices. Please contact Shaidy Ruiz (s.ruiz@calstate.edu) to join the Ally CIG meetings or the Ally listserv.
For more information for systemwide users, please visit the CSU Ally Deployment & Resources website (*).
* CSYou login required
Campus Ally Websites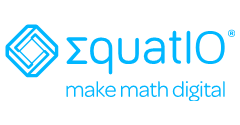 What is EquatIO?
EquatIO from Texthelp allows STEM teachers and students to express themselves and boost collaboration using a variety of tools like never before by making math digital. Input's easy: you don't need to know any complicated math code or programming languages. EquatIO understands what you're typing, speaking or handwriting and instantly turning your expressions into clear, accurate on-screen formulas.
Key Benefits
EquatIO brings the benefits of Universal Design for Learning (UDL) directly into the LMS environment with features such as:
Equation Editor allows users to predict, insert formulas, solve equations, and combine chemical compounds.
LaTex editor allows for more advanced typesetting language to be used to render your math expressions.
Graph Editor is powered by Desmos and allows for the overlay of multiple graphs and makes math visual. Enter any expression and you will see it plotted instantly.
Handwriting Recognition allows for users to use a touchscreen device, trackpad, or mouse to write equations just like you would on a piece of paper.
Speech Input allows users to speak the math with a simple tap of the record button. A user's math will then be transcribed and inputted right into the LMS.
Learn more about EquatIOThis link will take you to an external website in a new tab. - .

What is Read & Write?
Read&Write is a literacy support tool that offers help with everyday tasks like reading text out loud, understanding unfamiliar words, researching assignments and proofing written work.
Key Features
Text-to-speech: Reads words, passages, or whole documents aloud with easy-to-follow dual color highlighting.
Text & Picture Dictionaries: Provide definitions and display images to help with word comprehension
Vocabulary List: Creates a list instantly into a new doc, including selected words, the dictionary definitions, images from Widgit Symbols, and an editable notes column.
Check It: Reviews writing for incorrect grammar, spelling (phonetic), capitalization, punctuation, verb tense and more.
Audio Maker: Converts selected text into an audio file, and automatically downloads
Talk&Type: Turns the spoken word into text
Read more about Read & Write for EducationThis link will take you to an external website in a new tab. - .